Fast Service - Confidential - Secure - Call Now!
Contact Us
Our Contact Information: Feel free to call, email or write us!
CONTACTING AAAVerify.COM
Whether you are looking for sales assistance, customer service or if you want to provide us with feedback about our Web site, we'd love to hear from you. We're always ready to help you!
---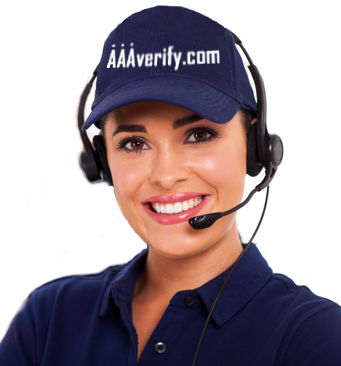 AAAVerify.COM - Featuring screeners - pre-screened and qualified in UCAA application - biographical affidavit verifications.
HOURS OF OPERATION
Monday through Friday 8:00 AM to 5:00 PM Central time. Saturday and Sunday Investigators are on call and return messages.

Call 1-800-231-3920
International +001 224-333-0276
Fax 1-888-777-5682

Corporate:
332 S Michigan Ave
Suite 1032-D633
Chicago, IL 60604
Support@AAAVerify.com
Bill Payment Center
Algonquin:
2413 W Algonquin Rd
Suite 508
Algonquin, IL 60102